---
Revisions to Class A member standards approved by vote of Golf Course Superintendents Association of America
The Golf Course Superintendents Association of America (GCSAA) voted Feb. 11, 2016, to revise Class A member standards. The membership vote took place as part of the Annual Meeting in San Diego where Peter J. Grass, CGCS, was elected president of the 17,000-member association.
Proposed changes to member standards were first introduced at the 2014 Chapter Delegates Meeting. The proposal was then reworked after the GCSAA Board of Directors received input from constituents at the 2015 Golf Industry Show in San Antonio and throughout 2015.
The vote also involved amendments to the bylaws, which included a new definition of Class A and renaming the Superintendent Member class. Click Here For More Information
---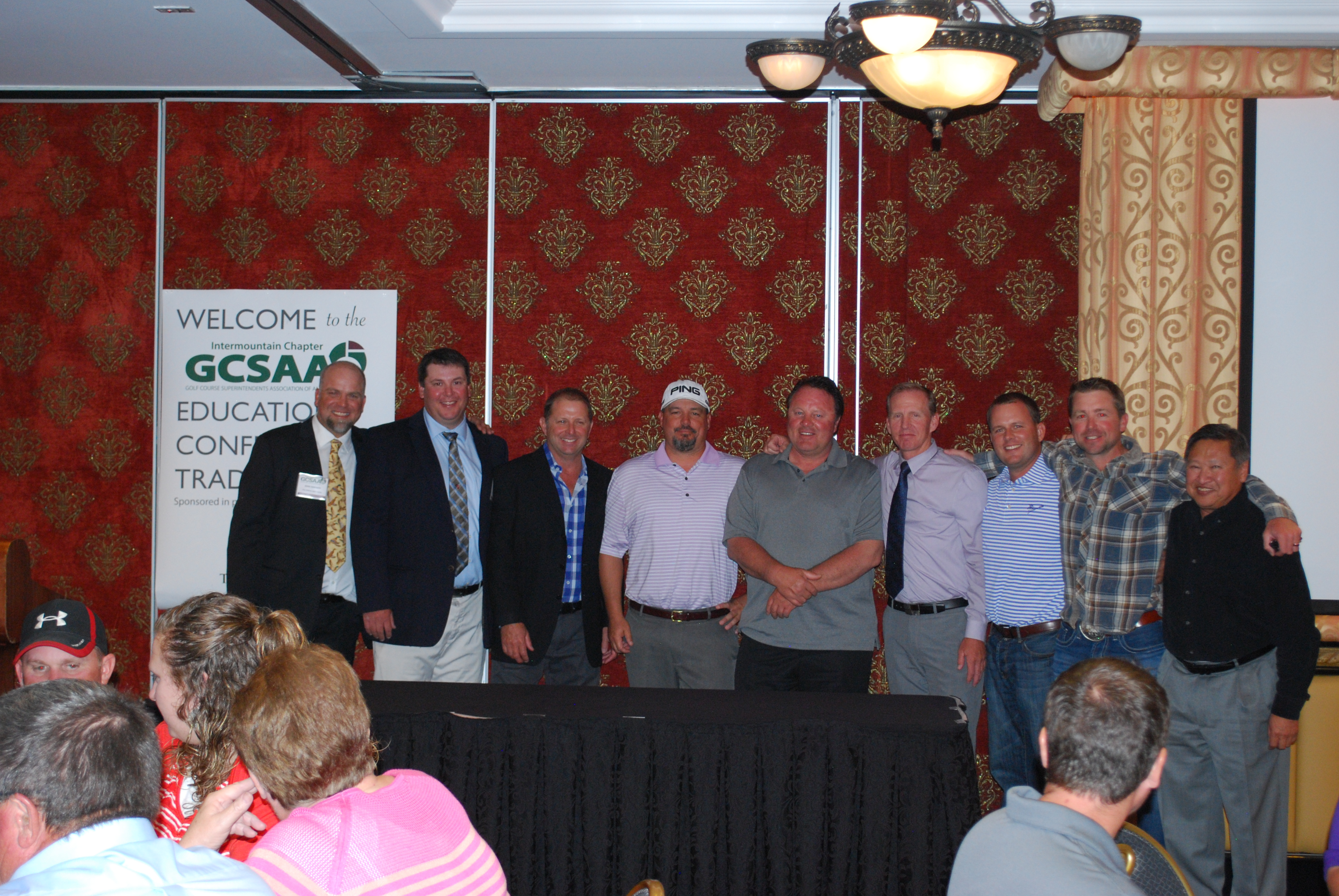 The 2015-2016 IGCSA Board of Directors
L-R John Hansgen, Past President Brian Cloud, President Brandon Haddick, Vice President Tom Rhodes, Secratary/Treasurer Brian Dye, Assistant Liasion, Directors, Dave Carruth, Ben Timmons, Justin Jefferies, Curt Hirasi (no longer on board), Pat Christoffer, (Not Pictured)
Fir
---
2015 IGCSA Chapter Champion sponsored by Green Source, LLC
---
The day was set, the location was chosen, a champion emerged.
The IGCSA had never had a two-time Chapter Champion in its brief history of holding this tournament. This year that would change. Or would it? Jason Lundberg, the 2013 Champion sat waiting in angst—his 68 is well in front and with the final cards being turned in his hope of being the first two-time winner was starting to grow. Then the final card is turned in. Jason sat waiting for the scores to be posted a 79 then an 83. Only one score left—Brecken Varah, a 67! A new champion was crowned. The IGCSA and all it's members would like to congratulate Mr. Varah as the 2015 IGCSA Green Source Chapter Champion!!
Brecken started working in the golf industry in 1994 at Mulligans in South Jordan. He worked there for six years—three of those years he worked on the golf course and the other three he was in the golf shop. Brecken graduated from the University of Utah in 2000 with a Bachelors in Marketing. During his time at the U of U, Brecken was a walk-on member of the golf team from 1998-1999. After college, Brecken left Mulligans and started working for eBay. He was successful there but his heart was not in it and decided to leave after about four years and pursue professional golf, his true love. He had some success as an amateur but ended up thinking that the Pro Life was not for him. Brecken then decided to get back into the golf industry and took a job at Willow Creek Country Club as a seasonal grounds crew member. After his first year he was promoted to Crew Forman. Brecken worked as a forman for two years and then was promoted to the second assistant position where he has worked for the last three years. Brecken is excited to be the IGCSA Chapter Champion and he would like to thank the IGCSA and Green Source for hosting a fantastic event.
---
---